Law enforcement landing pages
In 2019 we consulted on the principle of introducing redirection to a landing page following the suspension of a domain for criminal activity to improve transparency, prevent harm and educate the general public to interact safely online. 
Our consultation showed considerable support for the principle of a landing page from a wide variety of stakeholders. We heard valuable points on potential implementation challenges and agreed that a pilot project was sensible to test the concept, to check whether the pages received any visitors, and to establish a technical and operational approach.  
In March 2020 we announced our intention to run a pilot project to test the concept of using  landing pages. 
On 24 November 2020 we went live with our first pilot partner: City of London's Police Intellectual Property Crime Unit (PIPCU).
On 25 February 2021 we expanded our landing pilot to include three new agencies: The Medicines and Healthcare products Regulatory Agency (MHRA), the Financial Conduct Authority (FCA) and the National Crime Agency (NCA). 
Registrars do not need to do anything differently. Registrars will be notified of suspension/redirection as per the normal process. 
Useful Information for Registrars:  
What happens today? 
If a .UK domain name is identified as being used for criminal activity Nominet will provide notice to the registrar 

and 

the 

registrant, 

and then suspend the domain name

. 

 

Once the domain name is suspended, a 

DNS query 

will result in an

 NX response code.

 
What's changing? 
We're

 launching 

the second phase of our 

pilot 

project

 whereby 

some 

domains used for 

criminal activity 

will be 

redirected to landing pages.

During the 

second

 phase of the pilot project, domains used for criminal activity that are referred to Nominet by PIPCU

, the MHRA, the FCA and the NCA

 will be redirected.  

 

On conclusion of the pilot Nominet will assess the impact and report publicly on next steps.

 

Domains that are redirected to landing pages will not be removed from the DNS. Instead, Nominet will place investigation locks on the domains, and update the nameserver information so that the domain resolves to the landing page. 

There will be 

no

 NX response for 

these redirected 

domain

s

.

 

If upon receiving the redirection notification a registrar suspends the domain immediately, Nominet will redirect the domain name at the end of the notice period. To enable this, the domain name will be returned to the DNS with new nameserver information and have an investigation lock applied.  

 

All other domains used for criminal activity brought to Nominet's attention by the Law Enforcement Agencies LEAs listed in our Criminal Practices Policy will continue to be dealt with in the same manner as they are currently.

 

Our 

public information for registrants

has been 

updated to include information on the redirection; we have also published a press release.

 

Our 

Criminal Practices Policy

 is also available on the 

policy page

 to help registrants and the general public understand the reason for suspensions and/or the redirection of domains to landing pages. 

 

The landing pages will look as per the image below: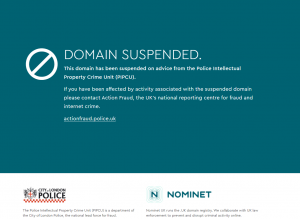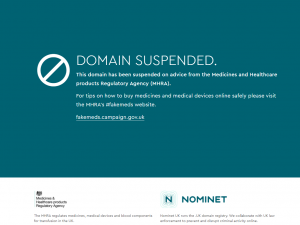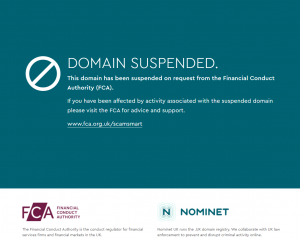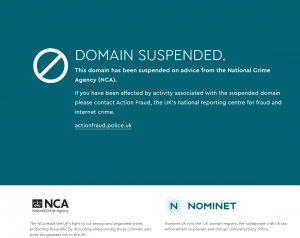 Share this:
Minerva House, Edmund Halley Road, Oxford Science Park, OX4 4DQ, United Kingdom